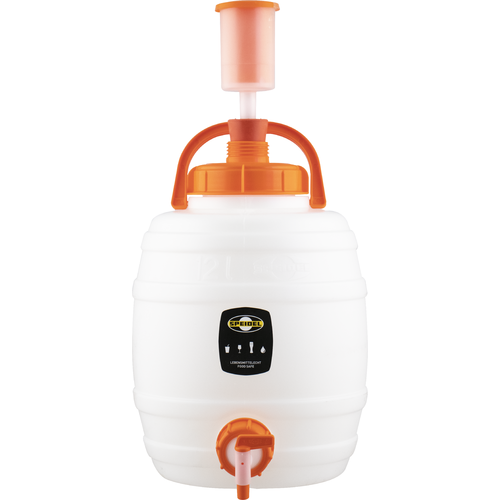 Spiedel
Speidel Plastic Storage Tank - 12L (3.2 gal)
Key Features:
Heavy duty HDPE construction is durable and resists oxygen transfer. None of the risks of working with glass.
Small footprint makes them easy to store - take better advantage of the space you have to dedicate to wine & beer making.
Built-in handles make these tanks easy to move, even when full.
Large lid opening makes them easy to clean by hand - say goodbye to your carboy brush!
All ports seal with gaskets and the vessel can be fully sealed for long-term storage.
Includes a spigot, airlock and stopper.
Designed and manufactured in Germany by Speidel, the makers of our legendary commercial wine tanks
Approximate Dimensions: 10in Diameter x 14in Height (w/out airlock in place).

Note - The maximum temperature that these plastic fermenters can handle is 140F.
This item drop ships and may take an additional 3-4 days to ship.
---
More from this collection