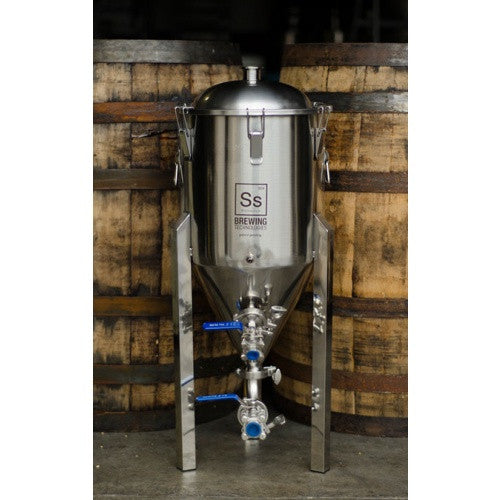 SS Brewtech
7 Gallon Chronical Fermenter
A fully featured stainless steel conical fermenter at a bargain price! Introducing Ss Brewing Technologies' Chronical Fermenter. Your customers are going to love these!

The Chronical has a full 60° cone, terminating in a Full Port 1.5" opening, making dumping trub through the included elbow and ball valve a breeze.  A Rotating Racking Arm (patent pending design) is set halfway up the cone, allowing for the racking of trub free beer.  A weldless thermowell allows for easy temperature monitoring and control with a digital temperature controller.

Full capacity to the rim of fermenter is 7 gallons, and Laser Etched Gallon Markers inside make determining wort volume a snap. Six spring-loaded Lid Clamps hold the gasket-sealed lid in place, and can be pressurized to 5 PSI for easy transfers & filtering.

Sturdy stainless legs keep your beer off the ground, allow for clean and easy access to racking and dump valves.

Key Features:
    Certified Food Grade 304 Stainless Steel Construction
    Patent Pending Stainless Steel Rotating Racking Arm
    7 Gallon Capacity (w/o lid)
    60° cone for clean yeast harvesting
    1.5" Tri Clamp bottom with Elbow and 3 piece Ball Valve
    Stackable design minimizes footprint and maximizes ferment space!
    Molded Silicone Gasket for airtight Lid seal.
    Six Spring-Loaded Lid Clamps hold Lid in place
    Pressurizeable to 5 PSI for Transfers
    Laser Etched Volume Markers inside for easy volume assessment
    TIG Sanitary Welds - Easy to Clean, Long-lasting!
    34" Height x 14" Width
This item drop ships and may take an additional 3-4 days to ship.
---
More from this collection