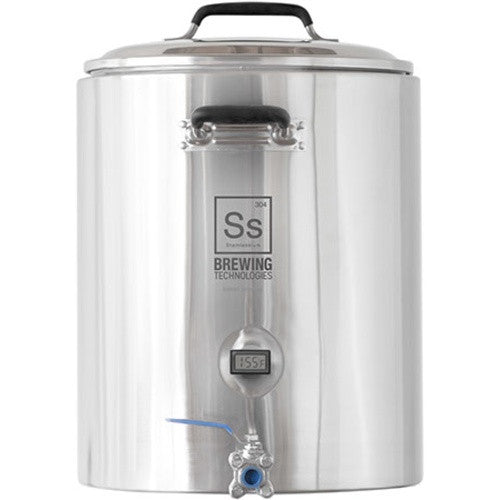 SS Brewtech
10 Gallon InfuSsion Mash Tun
Welcome to the latest and greatest from Ss Brewing Technologies awesome lineup, the InfuSsionMash Tun.  This is an insulated, Stainless Steel mash tun, set up with an integrated center drain port, gasketed false bottom setup, and thermometer.  Compared to similar sized Plastic Cooler mash tuns, the Infussion drops 5° F less over the course of a 60 minute mash.  The center draining conical bottom vessel eliminates Dead Space, and allows for great efficiency, while the internal volume markers get rid of the guesswork when prepping for dough in!  This is a great addition to any brewery, and with the additional upgrade kits in the pipeline (Sparging System, Heating & Temp Control System), this will up any brewer's game.
Features:
10 gallon capacity
Internal Volume Markers
Foam insulated Dual Wall 304 SS (excellent heat retention!)
Thermowell included
Precision LCD thermometer
Foam insulated lid reduces heat loss
False Bottom w/ Silicone Gasket
Silicone handles for safety also act as a lid hanger
Never worry about reaching the upper temperature limit with all stainless construction!
Wall thickness is nearly an inch of dual layered steel and insulation.
​PLEASE NOTE: These cannot be used in direct-fire applications. Do not use over a burner!
Dimensions: 20" H x 16" W
This item drop ships and may take an additional 3-4 days to ship.
---
More from this collection